Project Name
:
Earthspace Ease
Project Type
:
Super Luxury Villas
Project Location
:
Ponekara, Edappally, Kochi
Total number of Villas
:
40
Land Area
:
3.25 Acres
Furnishing
:
Unfurnished
Project Status
:
Completed

Enquiry
Summary
Earthspace ease, its all about the space You would live... You would belong to...
A thoughtfully planned and executed villa project, unique in its own design, standards and features. These trendsetting new villas from earthspace recognize your right to live an easy life. Magnificently designed and located in the heart space of the city but in peaceful serenity that soothes your heart and soul. Providing Cross ventilation, natural light, space optimization and superior finishes that never leaves you behind your expectations about your living space.
The facilities and amenities we provide like Tennis court, badminton court, cricket pitch, club house, indoor games, Amphy Theatre, large children's play area and much more that completely relaxes and rejuvenates you.
We just don't build homes.. we convert the space in to your most favorite place in this world.

Project Summary

Project Name
:
Earthspace Ease
Project Type
:
Super Luxury Villas
Project Location
:
Ponekara, Edappally, Kochi, Kerala, India
Land Area
:
3.25 Acres
Total Number of Villas
:
40 Nors.
Furnishing
:
Unfurnished
Project Status
:
Completed
Completion Date
:
Individual Villa Construction in 10-12 Months, Total Project by June 2012
Architects & Project Consultants
M/s Rohini Prasad & Associates
501, Landmark Enclave
Sahodharan Ayyappan Road
Valanjambalam, Kochi 682016 Tel : +91 484-2357810
Mr. Prasad - Structural Consultant
Mrs. Rohini Prasad - Chief Architect
Financial Consultant & Auditors
M/s JVR Associates
Chartered Accountants
No. 39/3639, Valanjambalam Lane
South of South Overbridge, Kochi 16 Tel : +91 484 2356314
Mr. Shawn Jeff Christopher ACA, DISA - Partner
Our Banks
Axis Bank Ltd
(Previously UTI Bank)
41/419, Ground Floor, Chicago Plaza
Villa Types
Villa Types




Villa Type : A
Total Area: 2005 sqft - 186.42 sqm




Villa Type : B
Total Area: 1772 sqft - 164.71 sqm




Villa Type : C
Total Area: 1737 sqft - 161.43 sqm




Villa Type : D
Total Area: 1532 sqft - 142.38 sqm




Villa Type : E
Total Area: 1934 sqft - 179.74 sqm
Amenites
Amenities
Security
Total Project Compound walled in 6 ft height with tight security
Additional Security Fencing on top of the total compound wall in 1.5 Ft.
Individual villa compound walled with gate
One Main Gate with Security guards
Intercom to the security cabin from each villa
24 hrs security with security guards
Roads
5 and 4 Meter Internal Roads
Health, Recreation & Games
Health Club and Fitness Centre
Club House
Library Room
Internal games such as Table Tennis, Billiards, Caroms & Chess
Badminton Court
Tennis Court
Cricket Pitch
Basket Ball Court (one sided)
Amphy Theatre
Party Area
Large Children's Play Area
Water
Sufficient availability of Natural Water on all seasons
Corporation Water connection
Rainwater Harvesting
Environment
Fully landscaped with lovely gardens
Waste Management
Rain Water Harvesting
Natural Water Resource on all seasons and plenty of Oxygen
Healthy Environment for a comfortable living
Specifications
Specifications
Structure
Foundation as designed by structural consultant, brick work masonry for load bearing walls, RCC slope and flat roof slabs.
Rooms
Rooms with excellent cross ventilation.
Flooring
Fully vitrified tiles for the entire villa, except kitchen, bathrooms, and utility area where antiskid ceramic flooring will be provided. Exterior grade paving tiles for porch.
Kitchen
Counter with granite top. Stainless steel sink with drain board. 60 cm dado above counter top in ceramic tiles. Electrical points for washing machine, water filter and for suitable number of electrical appliances.
Toilets
Anti-skid tile flooring, Ceramic tiles dado up to 210 cm height (Somany or equivalent). Concealed plumbing with PVC pipes and CP fittings of Crabtree or equivalent. Sanitary fixtures (Parryware or equivalent) with matching tiles. Exhaust fans and points for Geyser in all toilets.
Painting
Premium emulsion paint over putty finish for internal walls. Weather shield emulsion for external walls. Enamel paint for woodwork and grills.
Electrical
Conceal conduits wiring with copper conductor controlled by ELCBs and MCSs. modular switches of Crabtree or equivalent.
Doors & Windows
Front door and frame in Teak wood and other doors and frames in hard wood with paneled shutters . Windows and ventilators in hard wood. Toilet doors in fibre.
Compound Wall
Independent gate for each villa and picket fencing and general compound wall surrounding entire project.
Water Supply
KWA water through sump and over head tank. Option for borewellen.
Site Layout
Site Layout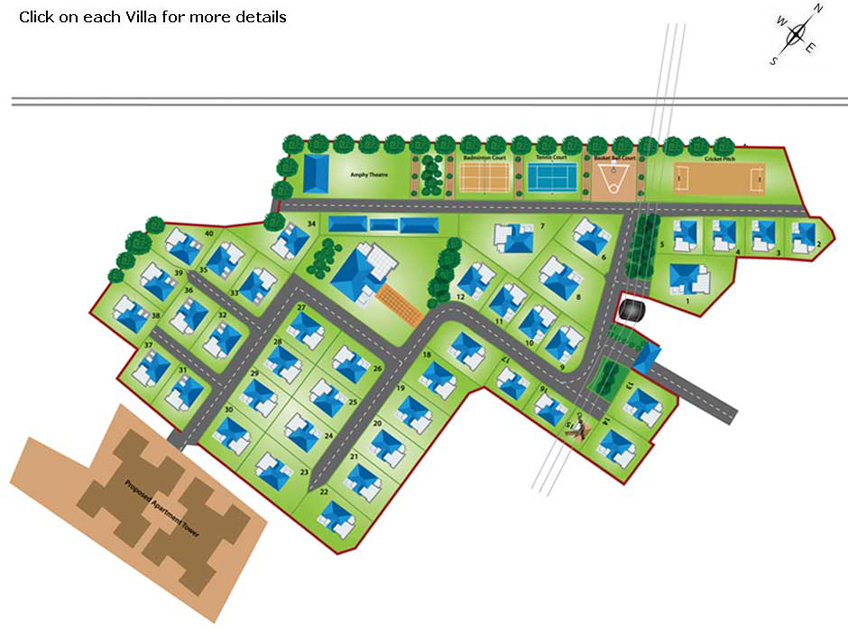 Site Layout
Location
Location
Earthspace Ease is located at Ponekara - Edappally (Under Cochin Corporation Limit). It is exactly 2 km away from Edappally School Junction (Modern Bread Junction) towards Ponekara. Adjacent to Amritha Hospital but before reaching the railway through the edappally School Junction - Ponekara Road a 10 Meter wide road and just 300 meter away from this road through a 5 meter road called Perumanathazham Road. A location map is enclosed for better understanding.
Distances to major Locations
Amrita Hospital - Walkable Distance
Edappilly Junction - 2 Km
Palarivattom - 3 Km
MG Road - 5 km
Marine Drive - 6 Km
Kakanad - 6 Km
NH 17 - 1 Km
Distances to Major Facilities
Schools - 1.5 Km
Temple - 0.3 Km
Church - 0.3 Km
Mosque - 1 Km
Hospital - 0.5 Km
Airport - 21 Km
Railway Station - 1 Km
Bustand - 0.3 Km
Lulu International Shopping Mall - 1.5 Km
Market - 1.5 Km
Existing & Upcoming Nearby Attractions
Amrita Institute of Medical Science - AIMS (Medical, Dental & Nursing College)
Lulu International Shopping Mall (In 17 Acres with 1 Million sqft Shoppng Mall, 5 Star Hotel, Convention Centre, Ceneplex etc..)
The Grand Mall
Work Progress
Work Progress
Price and Availability
The price of this property is very attractive compared to any other villa project in and around Cochin city, that also in Cochin Corporation Area. It is almost same as the cost of an Apartment in Cochin City, where you do not get the ownership and possession of a space on earth, ie Land. This is the only villa project running at present in Cochin Corporation Limit with lots of common amenities. Probably this could be your last chance to own/invest in a villa Project in Cochin City that also next to the lifestyle shopping & Entertainment centre of Cochin, Edappally. We can assure you this investment will fit to your budget and that will double in returns within no time.
We arrange Bank Finance up to 80% of the total cost of the villa from all the leading Banks and Financial Institutions,depending upon the income and loan eligibility of the purchaser. Our Projects are approved by all the leading Banks and Financial Institutions.
(Please call us for price and other details)
The Sqft Rate Includes the following :
Cost of the Land
Land cost of roads, common amenities & common areas.
Land development cost
Construction cost of drainages, external and internal compound walls, Gates & Security Cabin.
Construction cost of villa with all features.
Construction cost of club house & recreational areas.
Construction cost of Tennis Court, Badminton Court, Cricket Pitch, Basket Ball Court, Amphy Theatre
Construction cost for Children Play Area, Innternal landscaping and beautification
Construction and development cost of pavements and lawn space in individual compound/plots.
Tarring of roads.
Street lighting.
Cost of concealed underground telephone and cable for T.V and internet.
Internal telephone network PBAX.
Grab this opportunity to
OWN YOUR LIVING SPACE ON EARTH, NOT IN THE AIR
Payment Schedule
| | | |
| --- | --- | --- |
| On Booking | : | 5% of the Total Cost + Service Tax 4.12% |
| On Agreement (within One month from booking) | : | 25% of the Total Cost + Service Tax 4.12% |
| On Land Registration (within 1 month from the agreement) | : | 20% of the Total Cost + Service Tax 4.12% (At this stage, the Land will be registered in client's name) |
| On Completion of Foundation | : | 15% of the Total Cost + Service Tax 4.12% |
| On Completion of First Floor Slab | : | 15% of the Total Cost + Service Tax 4.12% |
| On Completion of Second Floor Slab | : | 15% of the Total Cost + Service Tax 4.12% |
| On Handing over | : | 5% of the Total Cost + Service Tax 4.12% |
All other Legal & Statutory charges should be paid extra on actuals, when due. A copy of the statutory charges payment vouchers/acknowledgments will be given to the clients for their records and verification, immediately after such payments are made.
Details of Statutory Charges
| | | |
| --- | --- | --- |
| Land Registration Charges | : | Stamp Paper Cost + Registration fees Apprx : 1 lakh |
| Workers Welfare Fund | : | 1% of the Total Construction Cost |
| Service Tax | : | 4.12% of the Total Villa Cost |
| VAT | : | 3.03% |
| One Time Building Tax | : | Approximately Rs. 10,000/- |
| Electricity & Water Connection | : | To be paid actual |
| Association Deposit | : | Rs. 30,000/- |